Explore some of our most gourmet creations
More about SugarMommy Chocolates...
Sugar Mommy Inc. is a chocolate and treats company supplying packaged gifts and decorative arrangements for corporate clients, special functions and seasonal occasions. Sugarmommy Inc. is the product of 30 years of chocolate making experience by company founder, Jennifer Snider. Jennifer has been making chocolate and treats for family, friends and clients on special occasions for many years. She has developed unique and creative recipes for chocolate and treats as well as their packaging. Each chocolate creation is not only visually appealing but addictively delicious. The demand for her chocolate has increased so rapidly that the company has expanded into a full-time venture with a production facility, online store and rapid delivery service to make it easy for Jennifer's clients to choose Sugar Mommy.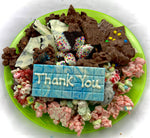 Corporate Gifts
Our clients include lawyers, doctors, dentists, architects, realtors, marketing companies, business people and many more…. Instead of sending out mass produced gifts, show that you care for your customers and clients with our delicious selection of handmade products. Personalize your gifts with chocolate discs with your business or client's names written on them. Send your clients their favourite types of chocolate and treats, show that you care with a customized gift. Make your gifts memorable! Promote your company with our famous sugar mommy chocolate bags. Great for promoting, open houses, company parties, raising energy and providing a positive atmosphere – while at the same time promoting your company! Who doesn't love chocolate? Party platters are great for office lunches and parties. Available with the chocolates, sweets and barks of your choice. Be a hero- bring a platter of chocolate to your office party!
Shop Corporate Gifts
Occassions
We make gifts for all occasions: birthdays, anniversaries, bar and bat-mitzvas, confirmations, baby showers, new home, thank you gifts, get well soon. We also make platters for Shiva's and seasonal gifts that are updated throughout the year on our website. Customize your gift with a personalized disc to show that you care.
Shop Occassions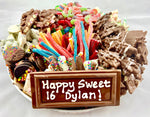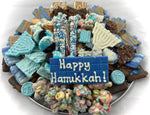 Seasonal Products
SugarMommy regularly updates our product offerings for the various seasons with specialized themed options!
Shop Seasonal
Customization
All this deliciousness and you still can't find what you want? Have a budget that you need to meet? Want less smores and more popcorn with your order? Have an idea for a crazy themed party? No problem- just give us a call and we will customize your order! We are always here to help you.